Tea Bag Supplier & Manufacturer
Tea Bag Supplier & Manufacturer Australia
 

TEA BAGS 
Premium Pyramid Tea Bags

Biodegradable SOILON NEO Mesh.

Private Label and Custom Tea Blends.

Custom Tea Tag and Sachet Design.
Biodegradable Neo SOILON Pyramid & Square Tea Bags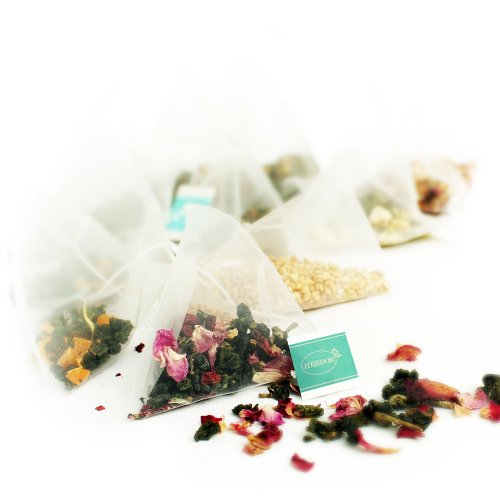 SOILON PLA Mesh
Japanese Made  
Biodegradable
Sustainable 
Available in woven(for powder) and non-woven mesh types.
Custom Tags
Various String Lengths
Can Be Packed In: Cartons, Pouches, Tins, Boxes, Jars, Canisters, Sachets 
Custom Sachet / Envelope
Paper or Foil options
100% Recyclable
Compostable (Paper only)
Custom Design (Back and Front)
Keeps Tea Fresh / Extends Shelf Life
Premium Look 
Packaging Styles
Cylinder Packing
Paper Pouch Packing
Cardboard Box Packing
Glass Jars and Tins Packing


Contact us
info@teavision.com.au (General enquiries)
orders@teavision.com.au (Wholesale bulk enquiries)
1300 729 617
Australia's Custom Tea Bag Supplier
At Teavision (leading tea company in Australia) you can buy many bulk teas for amazing prices, saving you or your business a nice sum of money. However, what if you are looking for tea bags and not loose leaf tea? Well, you are in luck! At Teavision you can create your own personalised tea bags by taking your bulk orders of tea and manufacturing them into tea bags. As well as creating tea bags, you can also create and develop your own blend of tea to go inside with the help of our award-winning tea masters. Before you know it, you will have a unique custom finished product, packed and ready to retail.
Choosing Your Tea Bag Manufacturer in Australia
When you begin the process of manufacturing a tea bag with Teavision you get to choose from our range of high-quality Australian tea bag supplier. You can choose our Biodegradable SOILON Pyramid Tea Bags which are made from SOILON PLA Mesh making them 100% compostable and sustainable. They are available in different mesh types (woven, ideal for powders, and non-woven). This makes them perfect for all types of tea and gives your tea a premium look. They are also customisable as there are various string lengths to choose from and you can customise the tag with your own design.
Biodegradable double chamber tea bags are another option that we offer. They are paper and cotton-based making them also 100% compostable and sustainable. Like our other tea bags, they also come in woven and non-woven mesh types to allow for different types of tea and are a cost-effective solution that you can still customise.
Once you have chosen your tea bags, you can choose to put them in a custom sachet or envelope, giving your tea an extended shelf life, or to package them in pouches, jars, canisters, cartons, tins or boxes. Each of these options can be covered with a custom design making them totally unique to your business.
Leading Tea Bag Manufacturer in Australia: Creating a Custom Tea Blend
All our bulk teas can be purchased and manufactured into tea bags, but if you would like to go one step further, you can work with our team of tea experts to create your own custom tea blend. We have over 100 natural flavours that will allow you to create any category of tea blend from tradition to herbal or fruity to cocktail-inspired teas!
The Best Teabag Manufacturer in Australia
At Teavision, you get the opportunity to work with an expert team of people that really know and understand what makes a great tea. They work with our suppliers to bring you great quality tea at amazing prices, helping you to save money where it matters without compromising on quality. From this bulk tea, you can then work with us to manufacture unique tea bags for your business.
If you would like to find out more about our teabag manufacturing service don't hesitate to get into contact with us by emailing our team at info@teavision.com.au.
We are also Australia's leading jasmine tea supplier as well as ginseng tea supplier.
Looking for a Tea Bag Manufacturer in Australia?
Do you want to start investing in tea? Are you looking for a tea bag manufacturer in Australia? If so, the team here at Teavision can help you. 
We don't just import high-quality tea from around the world into Australia; we also provide additional services that include tea bag manufacturing. That's right; we can get any type of tea you order in bulk manufactured in teabags. This includes rare tea blends, herbal teas, health teas and we can even manufacture tea bags with custom blends whatever your requirements may be.
And that is not all. We can get you any tea type from anywhere in the world with ease and we can also package your manufactured tea bags in custom packaging that suits your brand perfectly. With our packaging services, you can simply distribute directly to the public without further delays or additional expenses.
We're Australia's Leading Tea Bag Manufacturer
Teavision is Australia's leading tea bag manufacturer.  We use only the highest quality Japanese made products for tea bag manufacturing and we ensure that each and every tea bag is strong enough to last; yet functional enough to give you the burst of flavour you need when you are enjoying a cup of tea. 
Our business also imports high-quality teas from sustainable producers in over 10 countries. This enables us to create tea bags that are made of the freshest and highest quality tea leaves, herbs and spices. 
For more information about our quality tea bag manufacturing or to learn more about our tea ingredients and flavours, please give us a call on 1300 729 617 or send your email to team@teavision.com.au for all teabag manufacturing inquiries. 
Contact Australia's Leading Tea Bag Manufacturers Today!
Teavision is not only Australia's best tea company, but also the leading wholesale tea supplier. We specialise bulk loose tea, matcha powder, Japanese green tea, bulk organic tea, wholesale bulk spices, bulk black tea, bulk green tea and custom tea blends. We also offer a wide range of tea packaging services.
- Read Less