Tea Grading Guide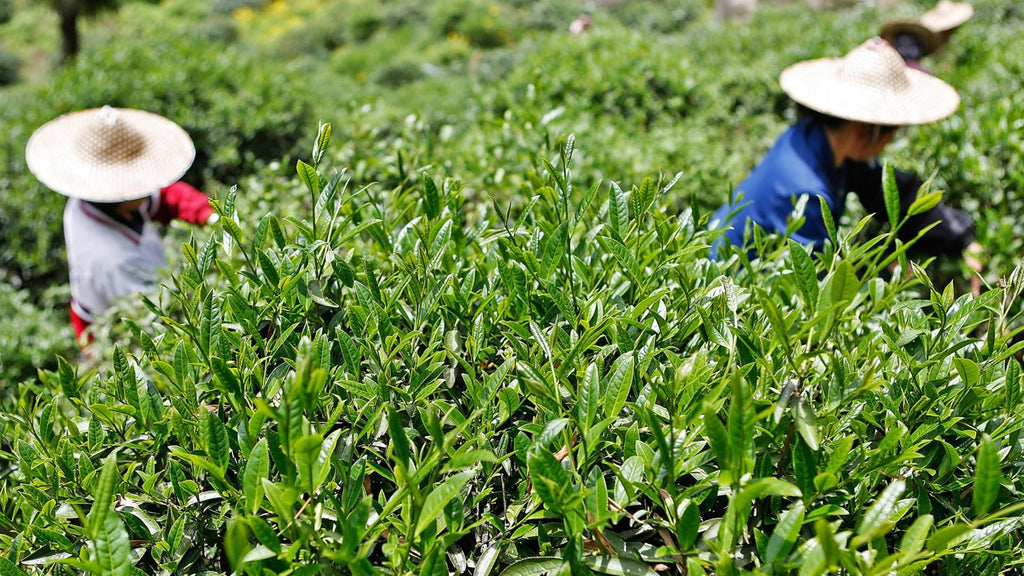 Tea comes in many different shapes, sizes and grades. There are many factors that contribute towards each teas unique liquor profile which then determines the grade of the tea and ultimately the price you pay.
Organic and Non-Organic teas are graded in the same way, however at Mr. Tea we choose to focus on certified premium organic loose leaf tea only. You can find out why we choose organic here
The below guide is aimed at providing you with a high level view of the different grades of tea to help you understand the different types of quality available.
How to Grade Tea (Green & Black)
Terms describing the Grading of Black Tea:-
Pekoe
Whole leaf black tea produced by a medium plucking of the second leaf on the tea bush. The word Pekoe comes from the Chinese meaning 'white hair' and was originally applied to the early tea plucking, due to the white down on the backs of the young leaf tea. 

Orange Pekoe
Black comprising leaf 8 to 15 millimeters long, which has fewer tips than an FOP. 

Flowery Orange Pekoe
FOP, can be either whole leaf or broken leaf Orthodox black tea with a lot of tip which gives it a finer quality. 

Flowery Pekoe
A whole leaf black tea with the leaf rolled lengthwise. 

Broken Orange Pekoe
BOP, black tea comprising broken segments of somewhat coarser leaf, without tip. Can be applied to both Orthodox and CTC teas. 

Fannings
Small grainy particles of leaf (1 to 1.5 millimeters) sifted out of better grade teas. Fannings will make a liquor that is often as good as that of a whole leaf grade and its grade which applies to both Orthodox and CTC teas. In the Orthodox teas fannings will include broken orange pekoe fannings (BOPF) and golden orange pekoe fannings (GOPF) which describe the amount of tips in a grade. 

Dust
The smallest particle of leaf size in both Orthodox and CTC teas which is normally used for tea bag teas, as they infuse quickly with the full flavor and strength coming through the tea bag material.
BLACK TEA:
Whole Leaf:
| | |
| --- | --- |
| P | PEKOE - is a grade of black tea. Derived from Chinese word (pe-ko)  also means "fine feathers" |
| FP | Flowery Pekoe |
| OP | Orange Pekoe |
| FOP | Flowery Orange Pekoe |
| FOP1 | Flowery Orange Pekoe -  First Grade Tea |
| GFOP | Golden Flowery Orange Pekoe |
| TGFOP | Tippy Golden Flowery Orange Pekoe |
| TGFOP1 | Tippy Golden Flowery Orange Pekoe - First Grade Black Tea |
| FTGFOP | Fine Tippy Golden Flowery Orange Pekoe |
| FTGFOP1 | Fine Tippy Golden Flowery Orange Pekoe - First Grade |
| FTGFOPS | Fine Tippy Golden Flowery Orange Pekoe - Special Grade |
Broken:
| | |
| --- | --- |
| BP | Broken Pekoe |
| BP1 | Broken Pekoe First Grade |
| BPS | Broken Pekoe Souchong |
| BOP | Broken Orange Pekoe |
| BOP1 | Broken Orange Pekoe First Grade |
| GFBOP | Golden Flowery Broken Orange Pekoe |
| GBOP | Golden Broken Orange Pekoe |
| FBOP | Flowery Broken Orange Pekoe |
| FBOP1 | Flowery Broken Orange Pekoe First Grade Tea |
Fannings:
| | |
| --- | --- |
| OF | Orange  Fannings |
| BOPF | Broken Orange Pekoe Fannings |
| FOF | Flowery Orange Fannings |
| GOF | Golden Orange Fannings |
| TGOF | Tippy Golden Orange Fannings |
| BOPFD | Broken Orange Pekoe Fannings Dust |
Dust:
PD

Pekoe Dust

CD

Churamani Dust

BOPD

Broken Orange Pekoe Dust

BOPFD

Broken Orange Pekoe Fine Dust

FD

Fine Dust

D

Dust

D1

Dust One

Spl. D

Special Dust

GD

Golden Dust

   
GREEN TEA
Whole Leaf:

YH

Young Hyson

   

FYH

Fine Young Hyson
Broken:

GP

Gun Powder

   

H

Hyson

     

FH

Fine Hyson

 
Dust:

Dust

 
Other popular green teas
Sencha                                                                  Matcha
Gyokuro                                                            Dragonwell